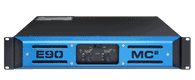 Picking The Right Power Amp For Your Speakers
When you're trying to decide which power amp is right for your speakers or PA setup, a general rule of thumb is to pick an amplifier which is capable of delivering power equal to 1.5 or 2 times that of the speaker's continuous power rating, also known as RMS , for example a speaker with RMS rating of 250 watts at 8ohms would ideally require an amplifier that can produce 500 watts at 8 ohms.
A quality professional loudspeaker can handle transient peaks above its power rating if they occur, this is described as headroom, and it will help to ensure that only clean, undistorted power is being passed to your speakers. Essentially, headroom can be described as the difference between the normal operating level of an amplifier, and the maximum level that the amplifier can pass without distorting.
Some power amps also come with built in DSP (Digital Signal Processing) with presets for specific pro audio brands and models of speakers allows for the best sound and performance and also has built in cross over settings for multiple speaker set ups. 
Understandably we cannot fit every detail of how to pick the best power amp for your set up into this section as there a number of further variables than this rough guide, these are commonly high value items so it can be extremely beneficial to open up a dialogue with us about them before you buy from us, we have plenty of experience and knowledge to help select the best deal online. So please do not hesitate to contact us before buying and we can talk you through how to find the best value for money power amplifier available, one which will be both a cheap and effective option for your set up.