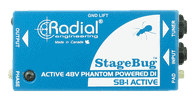 A DI (Direct Injection) box is a piece of equipment that is used in live sound or studio recording to change an unbalanced line level source to a balanced signal. The most common use for a DI box is for line level instruments such as acoustic guitar or keyboard that need to be plugged into the XLR input on a mixing desk.
DI boxes tend to come in mono or stereo and are either active or passive. Mono means that they have one input and one output most commonly used on acoustic guitars whereas stereo DI boxes have have two ins and outs perfect for keyboards or other sources that have left and right stereo channels. DI rack units with multiple ins and outs are also available to buy for recording studio and live purposes.
Active DI boxes require batteries or 48V Phantom power that is supplied from the connected mixing desk which generates a stronger balanced signal than a passive DI. Passive DI boxes will work without sending power to them but they have a lower input impedance and may require extra gain when setting your levels at the mixer which can cause some unwanted hissing system noise.
For instruments such as electro acoustic guitar, using a DI box to get the signal straight from the guitar to the desk is the most practical way of miking your acoustic for a live show as it gives a strong signal without the feedback/ space issues that can come with miking it up. Most DI's have a jack link so that you can send the clean DI signal from your guitar's pickups straight to the desk as well as having it plugged into a guitar amp to capture the character of that on a separate channel - some engineers like to blend these tones together live or when recording and it acts as a redundancy backup if the amp fails during a show. Many DI's also have a pad button to reduce the signal level if it is coming in too hot on the mixer.